Progiclean in video: 3 minutes to discover the benefits of a unique solution for all your management.
With Progiclean in video, discover in a few minutes this software solution developed specifically for cleaning and multi-service companies.
Progiclean in video: discover the ERP Cleaning and Cleaning!
Bye bye Excel sheets and data loss!
Progiclean est une solution logicielle de type ERP. C'est-à-dire qu'elle regroupe tous les modules que vous utilisez sur plusieurs logiciels, mais dans une seule application comprenant 12 modules fonctionnels :
Dashboard
Commercial follow-up (CRM)
Human resources (HRIS)
Schedules
Work orders
Route management
Billing
Purchase
Stocks and consumables
Profitability per site
Quality control
Customer and employee portal
Ainsi, vous n'avez plus besoin de ressaisir les informations ou de procéder à des imports/exports. Les données sont toutes centralisées dans Progiclean et redistribuées dans les modules avec le traitement nécessaire.
For example, scheduling data is used for payroll preparation. Another example is the use of HR information to facilitate planning (absences, vacations, terms of the employment contract, etc.). It also allows anomalies and inconsistencies to be reported.
This way, you no longer lose information due to imports/exports and you limit data entry errors. You don't lose any of your data because your Excel expert, who masters the formulas alone, is no longer in the company!
Other advantages of using Progiclean to manage your business
The best way to discover in 3 minutes with "Progiclean in video" why Pierre, who runs a cleaning company, was able to appreciate theimprovement in the flow of information between the various departments and the speed of execution for editing payroll and invoicing.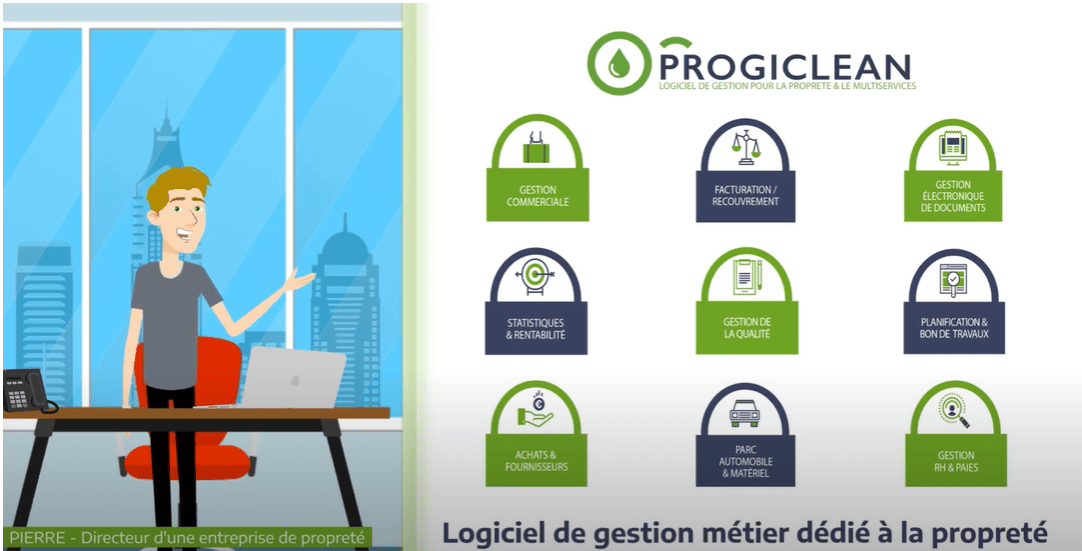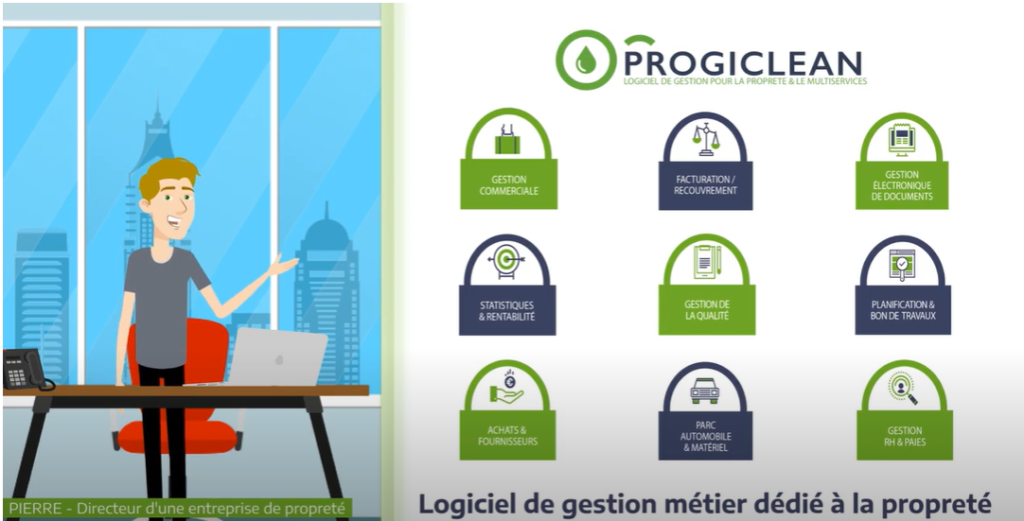 You will also discover how Sophie has been able to improve her missions with Mobiclean, theintegrated time and attendance and communication application. She saves a considerable amount of time on each job for her check-ins, her mission reports and the validation of work orders. The same goes for François, an inspector, who never leaves his tablet to check sites and assess quality.
Finally, Progiclean and its customer relations application (customer portal on mobile) Clink gives you a significant competitive advantage. More practical than a portal on the Internet, the mobile application is also more accessible, at any time of the day and anywhere.
Read more
Contact ushttps://www.progiclean.com/contact/